About
---
Background
The ever-increasing energy consumption places high demands to the production cycle supplying sustainable energy. Therefore, the wind industry focuses on increased sustainability of the wind turbines to ensure that the energy will continue to be produced in the best possible way. Thus, to ensure a continuous sustainable development, the focus by the industry is today on the composite materials used for blade production, posing the most substantial barrier for realization of entire recyclable wind turbines. 
Increased sustainability of wind energy through the development of new materials
The Dreamwind project (Designing REcyclable Advanced Materials for WIND energy) works towards solving this challenge through development of new materials for high strength composites. The development of the new materials is viewed in a circular economy framework. By viewing material development in a wider context, the focus can be on developing a product, which is sustainable in relation to economy and resources. The development is based partly on the production of stimuli-responsive materials, which can be disassembled after use, and partly on incorporating bio-based resources in the new materials. Furthermore, the newest knowledge within materials development will be used to ensure that the product can match performance of state-of-the-art materials. Hereby, the material will create value far beyond end-of-life of the product.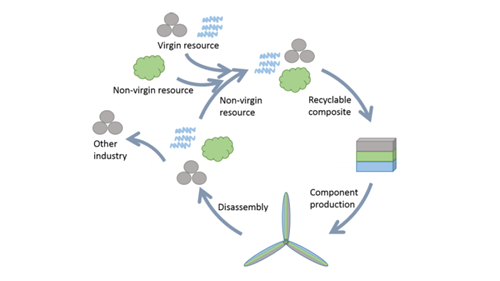 Figure 1: Schematic illustration of circular applications of materials, which create the framework for the development of high strength materials in the project Dreamwind. The materials are recycled and thus, have a decreased impact on the environment. Furthermore, the materials are kept as a high value resource either in their native resource chain or fed into another relevant resource chain, feeding other industries.
Target
Realizing the development of new materials for wind turbine blades, which can be disassembled and reused in new wind turbines, will increase the sustainability of the wind turbines of tomorrow. Clearly, this is beneficial for our environment and society, as new jobs will be generated through the entire life cycle of the material. Furthermore, it will maintain Denmark as a pioneer country in the field of sustainable and innovative production. 
Funding: Innovation Fund Denmark
Partners: Vestas Wind Systems, Aarhus University and Technological Institute
Project sum i DKK: 26.8 mio.
Contract period: 2016.03-2020.03
Contact person: Mikael Poulsen mpn@teknologisk.dk